We bring a broad level of experience from working in and for companies big and small across almost every Industry. Translating your ideas and requirements into perfect solutions that solve the problems you face effectively.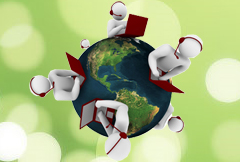 Nowhere is outsourcing more evident these days than web outsourcing. Back in the early era of the Internet, web development outsourcing was not much in demand. Web pages were mainly static and simple in those days and didn't call for specific skills other than basic HTML coding. As web sites began to grow in size, style and content, there was a call for creativity and special skills. Also, in order to outdo each other, to endure the competition, and to attract more visitors, site owners particularly those in online business began to develop dynamic web sites.
Nearly all web-based jobs are outsourced now. Web development these days requires joint efforts from skilled experts such as programmers, software engineers, web designers, graphic designers, content developers and search engine optimizers, among others. For online businesses, it is not practical to employ so many people. The best solution for them would be to outsource these services.
As a versatile web outsourcing company, Swap IT Solutions Kannur, Kerala advises you to aim big. Starting from domain name registration to all other web-based services, be it launching, hosting, designing, e-Commerce web development, application development, web site optimization, technical support and ongoing web maintenance, we offer all and excel in all.