"Building a Web site is just the beginning"
The website maintenance and updating of your site is a vital part in its continuing success. You want your site visitors to keep coming back, you want to make sure your product information is accurate and you need to know if your website promotion is hitting the mark.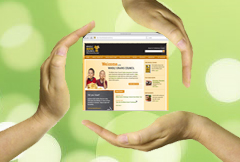 Our web maintenance team works on projects that involve more than just maintaining existing websites and applications. They work on enhancing existing applications, adding new content, search engine optimization, bug fixing and constant technical support.
We make website maintenance a simple, stress-free experience. You will be assigned a single contact person who knows you and your project – you won't be shuffled around and have to start at square one explaining your project and needs.
Website Maintenance Includes:
Modification and Addition of Web site Content
Adding new content to your website
Editing, Revising, or Updating your existing content
Image Manipulation and Addition (Client Supplied Images)
Update Announcements, Articles, News, etc.
Replace Images i.e. Pictures and Graphics
Adding/Editing/Removing pages
Adding or maintaining links